Pie Ride 2011
The detailed report.
The start was surprisingly uneventful.  A quick photo and then Bill led us out with Ursula, Sean, Anthony Sc., Nerius, Steve, and me trailing.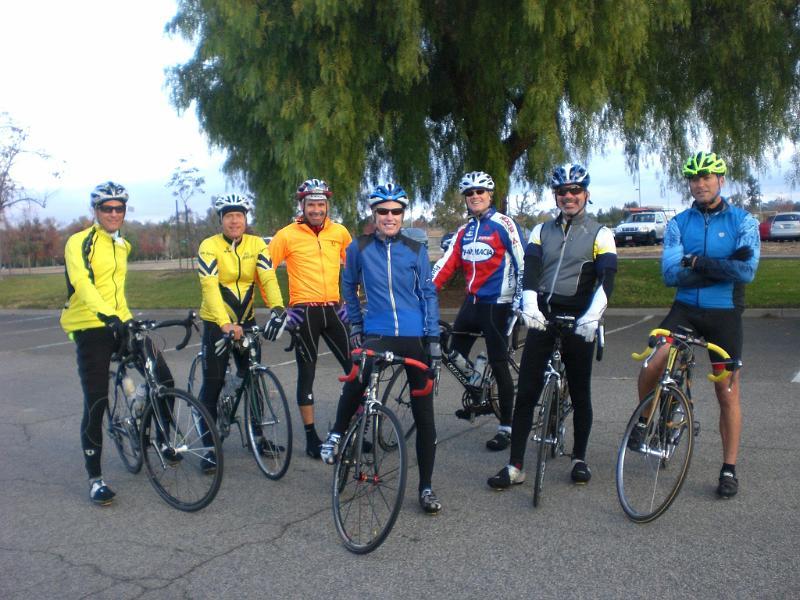 Steve, Nerius, Bill, Ursula, Wade, Anthony, Sean
We were all bundled up, with Nerius wearing some bib tights with a slightly disturbing hole in the back. But I gave him a pass on that because he was nice enough to lend me his extra set of toe warmers.
We headed out of Escondido full of confidence with Sean and Ursula helping Bill with the pulls.  By the time we reached the top of Valley Center Parkway all of us were starting to get a little warm. Ursula was first to the top showing no sense of moderation. Sean was not first up the hill and he mentioned something about a nonexistent flat.
For some strange reason we put the hammer down through Rincon arriving at the store at the bottom of Palomar in a lather.  By this time, I had created a micro climate in my jacket and was beginning to wonder if I had remembered to put on deodorant this morning.  We loaded up with some water and everyone stripped down except for Steve (who never strips down).  I would also like to point out that Bill had a very stylish tartan jersey.
The start of the climb was fantastic. It was pretty cool but this made for good cycling and we were all keeping a pretty good clip.  At about 3000 feet everything changed when the drizzle started.  By 4000 feet we were in the clouds and the rain was a bit more intense, I was beginning to think this was not the smartest thing I have ever done. Thankfully, at about 4500 feet the rain turned to snow which was awesome. Sean showed a superior level of intelligence by diverting onto 76 when the rain started and slogging his way alone up Mesa Grande toward his ultimate abandonment in Santa Ysabel.  The rest of us arrived safely at the top. Special props to Nerius and Ursula who went store to store in under 1:20. Some had breakfast and some had pie. Nerius had both.
Ursula mentioned that she wished she had toe warmers. Feeling slightly guilty that Nerius loaned me his, I offered them up (secretly figuring there was no way they would fit her). Ursula seems to have unusually large feet for a woman.
After a nice break although still extremely wet we set out down the east grade into a snowfall that quickly turned to sleet.  I know that everyone's hands and some of our toes went immediately numb. The wet cold was so intense that I got a horrible Slurpy like brain freeze type headache. (My aerodynamic position seems to force an abnormal amount of air right onto my forehead.)
After a slight wrong turn, we headed toward Mesa Grande. At this point Anthony Sc. argued that in this weather, climbing anything with a "Grande" in the name was sheer madness. His point was conceded all around – and then we headed up the hill.  The climb was difficult but not horrible with Nerius and Bill leading the way. The cold drizzle continued as we rode through some pretty, but poorly fenced rolling terrain with cows, and dogs making themselves a nuisance on the road  – including one little dog that really didn't like Nerius.
Arriving at at the Julian Pie Company in Santa Ysabel we were thoroughly soaked and cold.  With Dutch apple pie and coffees all around, we were soon off to Ramona (thanks Nerius). The weather began to ease to a light drizzle that completely stopped by the time we arrived at the 67.  The roads here were fantastic – fast, no traffic and almost dry.  The Highland Valley climb and descent went smooth although no one but Steve showed any sense of moderation.
We arrived back in at Magee [edit: Kit Carson] Park en mass, took a quick photo, made promises to do it again and then we were off to the showers.
All in all pretty darn epic.