Border 2 Border
We did it. Bob Sheldon, Ursula Misiraca, Sherry Newsham, Ken Hartman and I rode from Vancouver B.C. to the Mexican border. We left Vancouver on August 30, 2015 and touched the fence on October 6, 2015.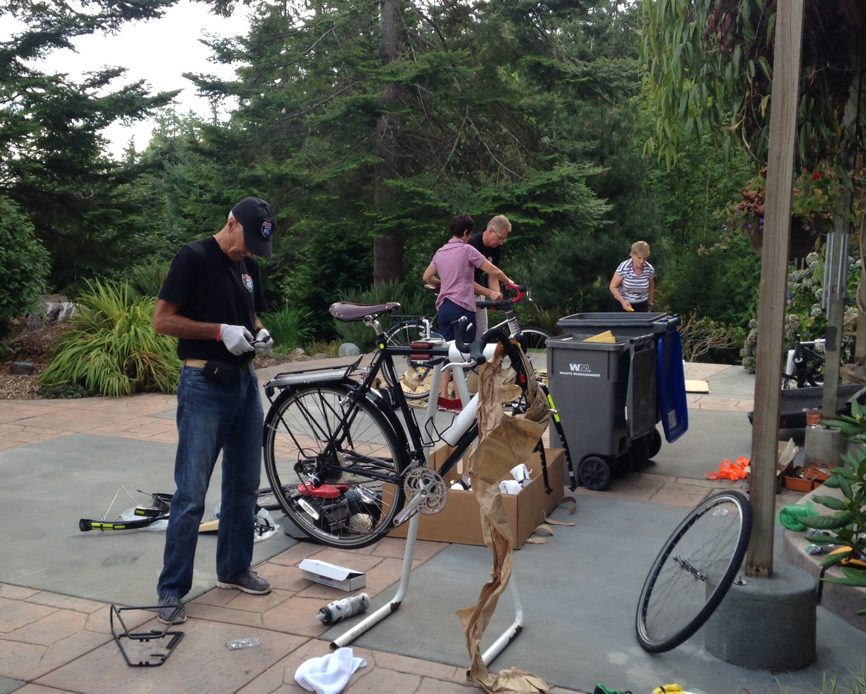 Funny how when you take your bike apart and pack it, that after it arrives and you are trying to put it back together there are parts that don't fit, extra pieces and missing pieces and lots of adjustments needed to be made.
We arrived in Vancouver by train from Seattle. After checking into our hotel we were planning to cruise Stanley Park however, the park was closed due to unexpected high winds and downed trees. That's how our adventure started trees blocking bike paths, wind, rain and being searched at the Canadian USA border.
Exploring Washington was an adventure of itself so many ferries and we rode many of them. There are some amazing places to cycle and or visit Whidbey Island and Deception Pass are two of them if you haven't been there check them out online.
---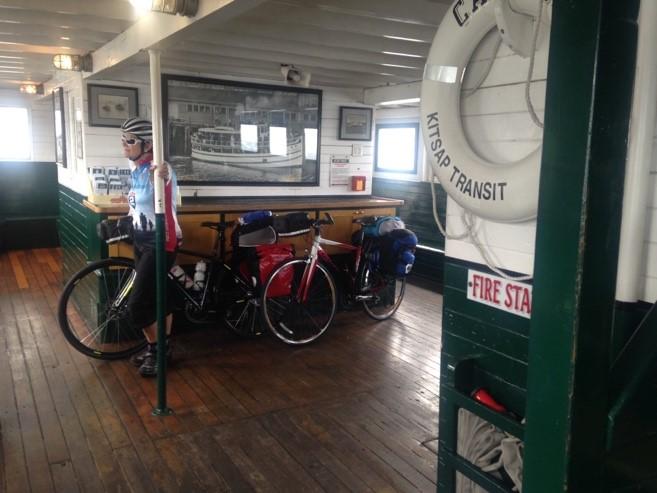 Our last stop in Washington was in Cathlamet. The last quaint little town before taking a ferry to Oregon. We had lunch and warmed up at this café. Before lunch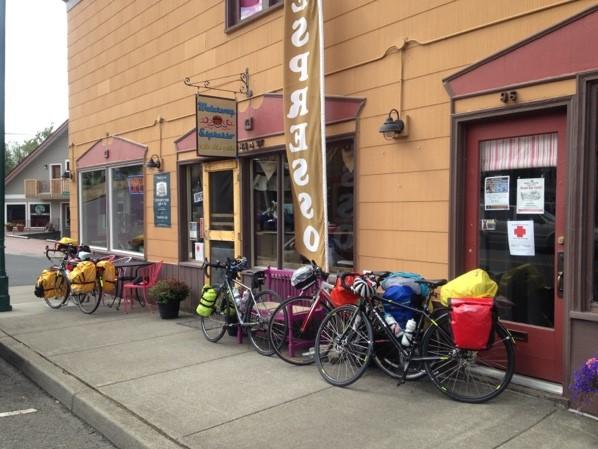 And after lunch

On to Oregon, it was our last ferry ride in Washington. By taking the ferry to Oregon we avoided the bridge that most cyclist talk about being extremely dangerous, it added a few miles but who's counting. We experienced more rain and lots of morning fog in Oregon but when it cleared the scenery was breathtaking. And one day we were fortunate to enjoy a picnic near Oceanside, Oregon.

The views, bridges and lighthouses in Lincoln County was our itinerary for the next couple of days.

From here we rode through another quaint town, Florence, with a great restaurant in an old train depot. And on to Coos Bay by the time we arrived in Coos Bay I was ready to ship my borrowed bike home and fly away. I had been having a very difficult trip on a bike that didn't fit me well. We found a bike shop and tried to change out and reposition things but the mechanic said it would be 3 days. While looking around the store the boys saw a bike that they thought might fit and work for me and it did. They were stripping one bike and putting the saddle, pedals and panniers on the other bike, in no time we were on the road again. The drop handle bars, disc brakes and wider tires were a comfortable and safer improvement for me. I'm happy.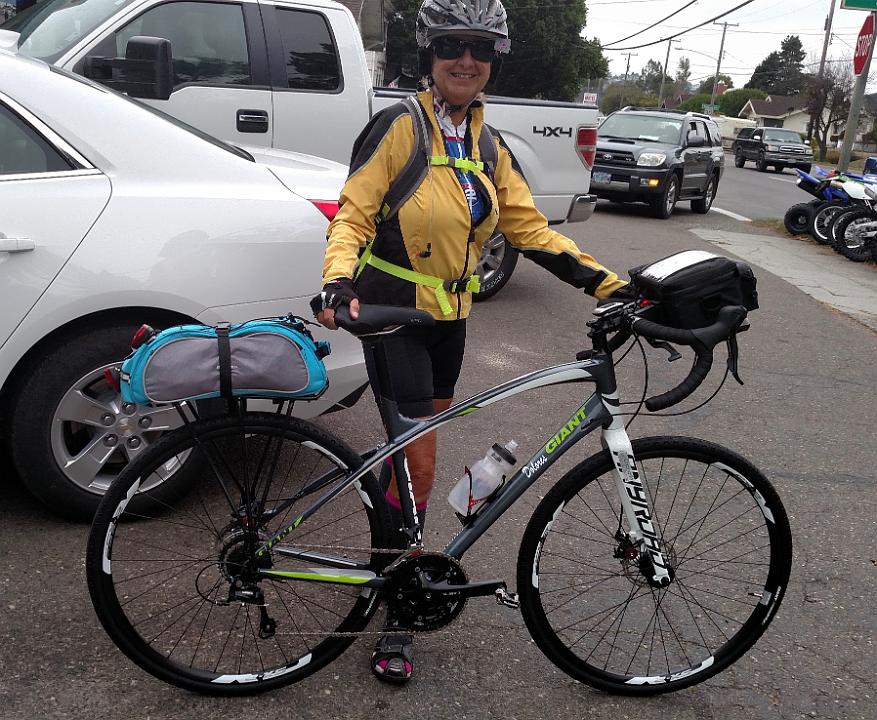 From Coos Bay we stopped in Bandon where they make a cranberry whiskey, next was Port Orford a small small town that had one of the best restaurants and views and without a doubt the BEST crème brulee. Our reward for some of the challenging climbs was a decadent chocolate treat at the top of the most difficult climb for the day.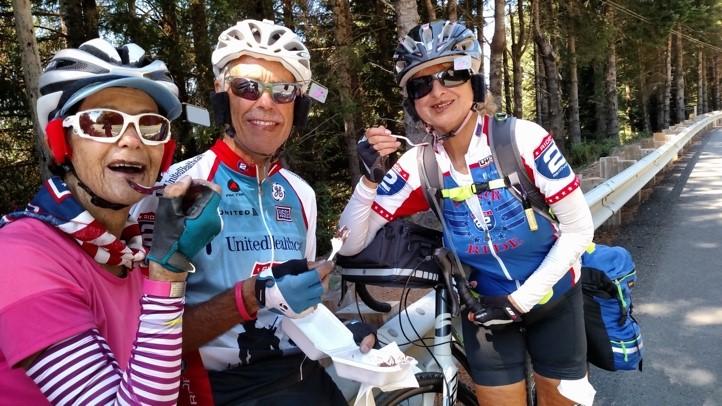 Into the woods, we are in California. Trinidad was our first stop it had been pouring rain and Bob wasn't feeling well we found a cute cottage in the forest

and the majestic Redwoods were everywhere.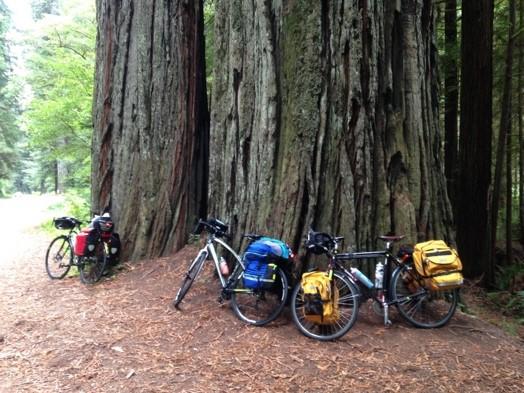 The Redwoods were calling us so one afternoon we parked our bikes and took a hike to feel the peace and tranquility of the forest.

On to Anchor Bay with a 17% incline we had a few of those from the very beginning.

with a well earned break at the top.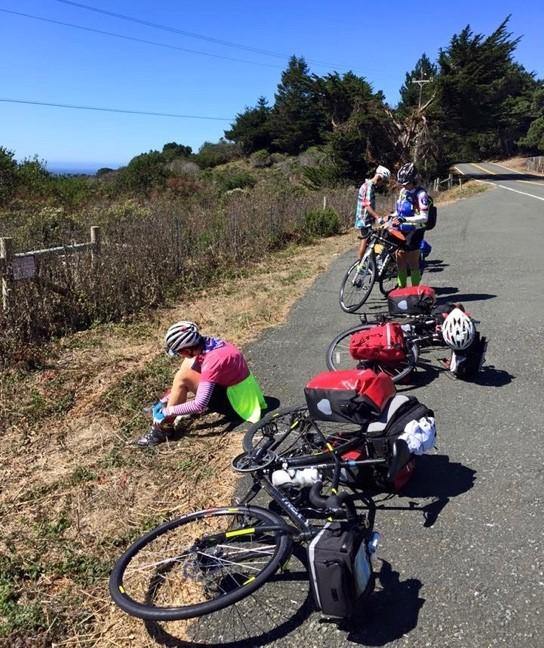 Some more quaint towns Tomales, Gualala , no room at the inn, they had no rooms available because of the fires, first responders and heat. Fortunately we met this wonderful lady from the Chamber of Commerce who found us some rooms five miles back and of course up some hills however, she transported our panniers for us which made backtracking easier. On to Sausalito, Golden Gate Bridge, be careful what you wish for, I have always wanted to cross the Golden Gate Bridge by bike this day however the winds were gale force, the tourist oblivious, it was terrifying for me all I wanted was to be off the bridge. Later we traveled through a nice tunnel as opposed to scary tunnels, we had a few of those along the way. Yippee we are in Half Moon Bay and a rest day. The boys did some bike adjustments, we did laundry and then decided to go for a bike ride. Sounds like an oxymoron but it was fun no panniers.
On to Monterrey, Bixby Bridge and Big Sur. Somewhere on Highway 1 at the top of a climb, one of many, the boys were flagging me over, my thoughts were hallelujah they are going to throw my bike off the side of the cliff well not quite but almost as good they took my panniers and strapped them to their bikes and lightened my load.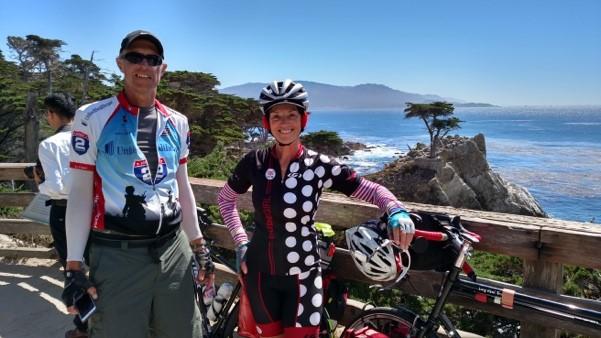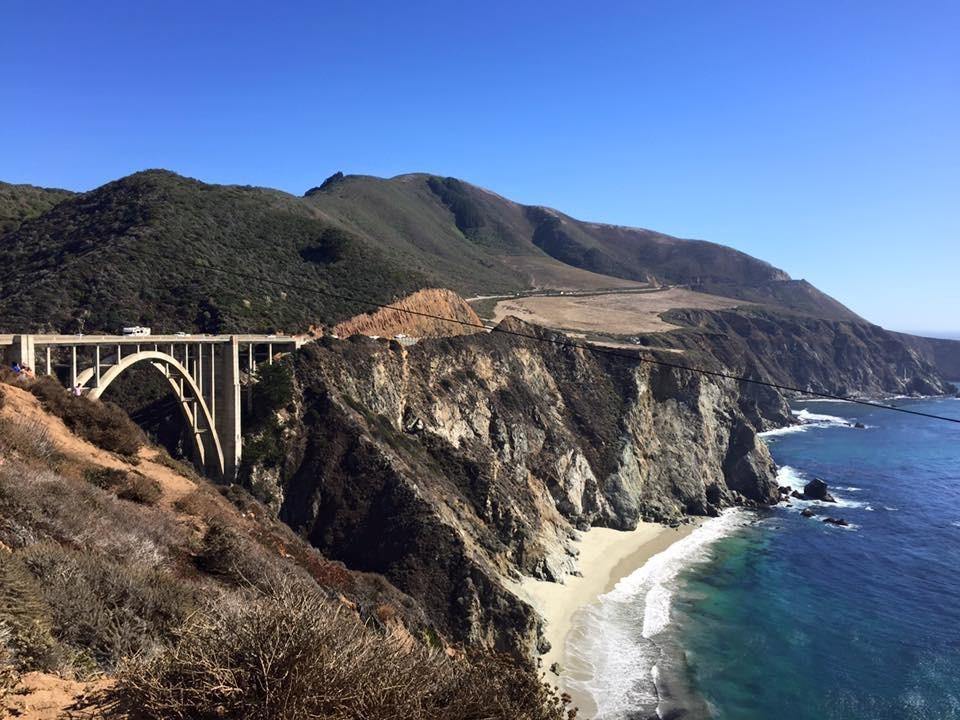 When we were in San Simeon a couple of friends met us for dinner. It was so good to see familiar faces and know we are getting closer to home. Now I am on well traveled bike roads that I have ridden a few times before. In Carpenteria another friend stopped by. And next Oxnard, Malibu and our last night on the road in Huntington Beach. The team tried to get me to develop a taste for beer as we stopped at many breweries for dinner along the way. At the jacuzzi they asked what I wanted to drink to celebrate I replied Mango, anything mango. Guess what they found, Mango Beer and I liked it!
Riding into Dana Point so many of our friends were there to greet us and welcome us home. And when we arrived at my house my neighbors came out from three different houses and cheered a heartfelt warm welcome home. An emotional finale to our adventure.

Heading for the Mexican Border. We rode with a lot of our friends and sponsors from Ride 2 Recovery again another wonderful group of people. When we arrived at the border fence Border Patrol are driving closer to us and another car was coming down from the opposite side also a helicopter was headed our way. Didn't realize so many wanted to greet us, oops we were in a restricted area and they wanted us out NOW. A quick photo.
An epic adventure.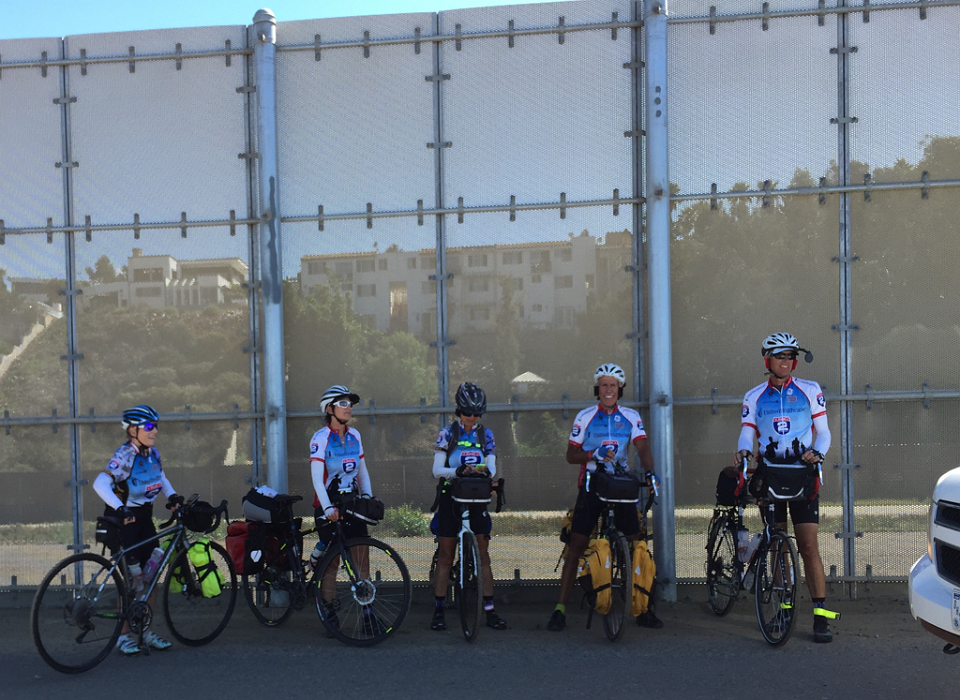 This was an amazing experience an unbelievable accomplishment. Many evenings I was checking into flights or trains home I am so thankful for the encouragement from Ursula and my team and friends from home texting and following us on Facebook and my blog DeeTour10@blogspot.com and even my grandsons classroom was following my blog. It was extremely challenging, I am Wonder Woman. Life is about doing the hard things because of the reward at the end.
I would like to go back and do segments and spend more time exploring there was so much to see, so many people to meet and yummy foods to eat.