Did you do any interesting rides recently?
I was lucky enough to be able to fly to Paris and took the occasion to try out their "Vélib" service, a bike rental scheme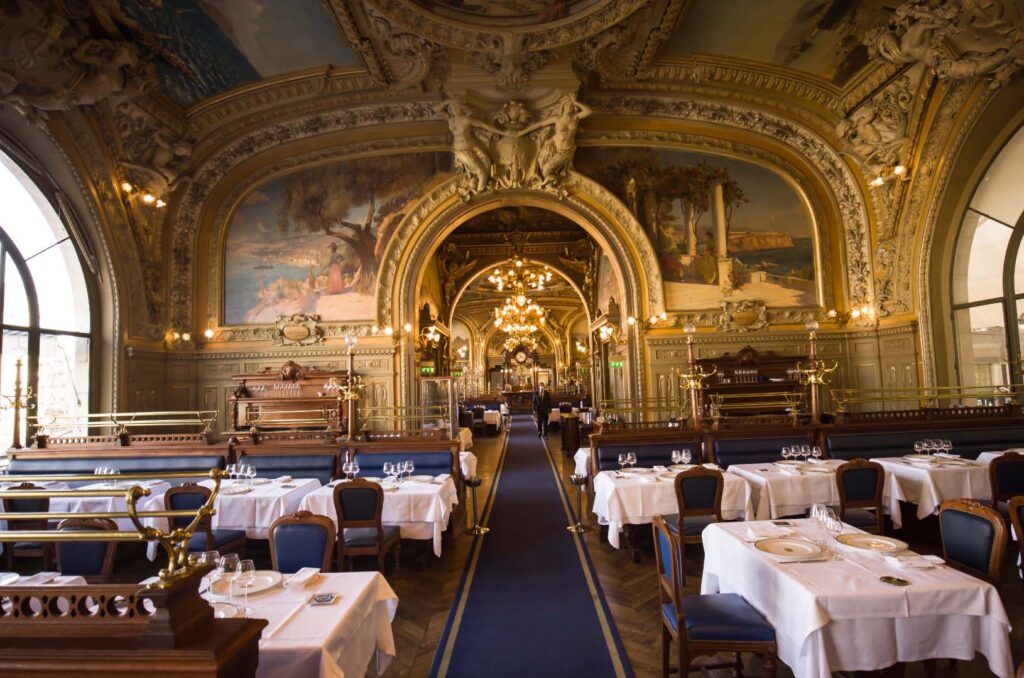 It's early morning and I am planning to try out the Velib today but first a French breakfast (café au lait, croissant, pastries, yoghurt, juice) at the nearby railway station. This however is no ordinary café: Le Trein Bleu is one of the famous restaurants of Paris, first opened in 1900. Its gold leaf walls and ceilings are decorated with paintings by popular artists of the time. Originally, it was where the beau monde dined before taking the night train to the French Riviera. It's worth bearing in mind for Sunday nights when most restaurants in France close after the traditional large family lunch. Tomorrow, I shall take the train but only as far as Geneva. Le Trein Bleu is located in the Gare de LYON, almost my own private station!
Vélib, a portmanteau word for Velo Libre or free bicycle has been operational since 2007. There are bike stands all over Paris and downloading the app not only tells you where they are but how many bikes, standard or electric, are available.
Vélib requires registration and a credit card. For visitors, the simplest subscription is a 24 hour pass at a cost of just €5. For this, you can actually take five bikes at a time, enough for a "famille nombreuse". There are modest additional charges: the first 30 minutes is included in your pass but after that there is a charge of €1 for each additional 30 minutes. Take an e-bike and there is a €1 extra charge for the first 30 minutes and a €2 for each subsequent 30 minutes. But you can mix and match: ebike up to Montmartre, standard bike down to and along the Seine. There are 1400 bike stations, one bike per 97 residents and an average of 110,000 rides per day.
Interestingly, Vélib is now broadening its appeal. Not just for short work or personal trips around Paris they now offers suggestions for itineraries to visit historic sites, both in Paris (within the peripherique) and to nearby places outside Paris, such as Josephine's Château Malmaison; directions, maps, what to visit en-route and locations to take and leave your bike are provided. So bikers, next time you visit Paris, forget the tourist guide and take a Vélib itinerary.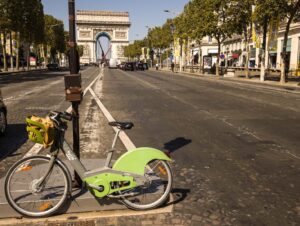 Dressed appropriately (sic), for the part, I easily find a bike close to the station. It is not easy to ride; there are flat pedals only and no crossbar which makes it less stable than our usual bikes. But it has excellent brakes, a simple 3 speed changer and a very large basket in front. Riding is not as dangerous as I expected. Paris has many cycle tracks, some stripped on the right side of the road but many on a reserved part of the sidewalk. In fact the greatest danger is not from the French motorist but the unaware pedestrian who carelessly wanders across the reserved cycle track. The roads and paths are very smooth, pothole free apart from the occasional paves – watch those cobblestones.
I set off from the Gare de Lyon, crossing the Pont de Austerlitz bridge over the Seine, named after Napoleon's greatest victory in 1805 and turn west on the Quai along the left bank. I am soon passing La Tour d'Argent, one of Paris's most famous restaurant with a fantastic view from its fifth floor over Notre Dame and shortly thereafter the cathedral itself. From the Quai Voltaire (yes, philosophers get a look in and not just generals) I cross the Seine again and plan to take the famous tunnel under the Louvre which is part of the Tour final day route. At the last minute I discover that the tunnel when not closed for the race is two way with no cycle track and the lanes are reversed so that I am now on the right heading directly into oncoming traffic. A quick exit and I take the cycle path through the Jardin de Tuileries. Then it's through the Place de Concorde, a tour to the Presidential Palace where a large number of armed gendarmes persuade me to find another route and back to the Champs Élysées to try out my sprint finish to the Arc de Triomphe. The race commentators always remark on the tough uphill to the Arc but I find it quite gentle; perhaps after 2000+ miles it gets harder. I decide not to try to cross the twelve exits of the Etoile roundabout; there is now a tunnel provided for cyclists to get cross Etoile and avoid certain death; even driving around the Arc is a terrifying without lots of experience.
I park the bike in a stand and head for a restaurant in the 14th arrondissment, the Montparnasse district. After lunch I pick up a bike right outside then restaurant and head back to the center via Pont Mirabeau and upstream along the right bank. There are great views of La Tour Eiffel and the Bir Hakeim bridge (another victory, this one in 1942). I continue along bikeways shaded by mature trees to Concorde where I plan to visit the newly opened Hotel de la Marine. "Hotel" in France does not mean somewhere to stay but a large residence or in this case government building. So you will not find your night's accommodation at the Hotel de Ville.
Looking for a place to return my bike is where my problems start. It takes me 45 minutes to find an empty position in which to park and lock the bike, costing time and a little money. This seems to me to be the only drawback of the system. Bikes move from stations to the city center in the morning and back in the evening. Perhaps I'll send a letter to the Mayor of Paris (c/o Hotel de Ville, Paris 75).
But it was a fun way to see Paris, much better and healthier than the metro and a lot cheaper than a guided tour. Try it next time you visit Paris or any other of the cities where the same system is in operation.
And so on to Geneva and then Embrun and a famous Le Tour route (part 2 to follow).