The Electrified Cyclist
Several months away from cycling and several more trying to catch up with the group as it disappeared up the next hill encouraged me to investigate the world of e-bikes; not the types that are fully motorized with a throttle (Class 2), nor high powered mountain or boulevard cruiser type electric bikes, but a simple road bike with a battery and motor. Not that I'm trying to conceal my e-assist; in fact, I'm revealing all here.
My basic requirement was for a regular road bike of reasonably light weight and a standard gear set, such as 50/34 chain rings and 11-30 cassette. I would like to ride it as an unassisted bike as often as possible and secondly, but also important, I need to be able to ride it home when the battery is dead. There are few contenders.
Most "road" e-bikes are aimed at the hybrid market. Their tires are 34mm or more, such as 38mm on the Specialized. Many have 350W motors or even 500W. That increases weight, both of the motor and of the battery required. With 350W motors 500Ah batteries are common. Some do not have standard compact type chain rings and cassettes. Single chain rings are common (just 20 on the Trek) and widely spaced cassettes, such as 11-42 with a 46 chain ring on the Specialized. And the final choice is where to put the motor. There are two main contenders: in the bottom bracket area or in the hub of the rear wheel.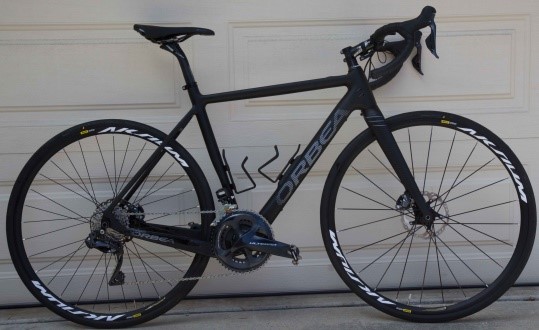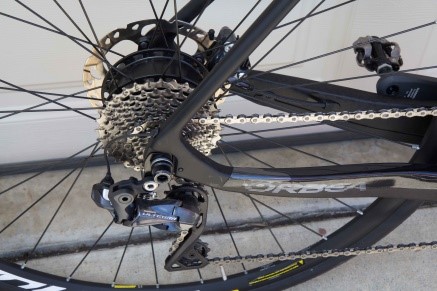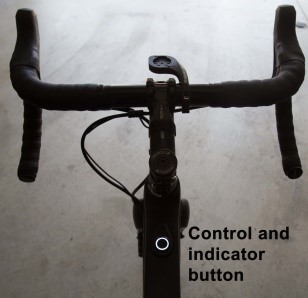 MY E-BIKE. I have an ORBEA Gain M20i. You can find the spec on the web but briefly it is a carbon frame, 250W motor in the rear hub, a 250Wh battery, Ultegra Di2 R8070 shifting, hydraulic discs, 11-32 cassette 50/34 crankset. It weighs in at 26.8 lbs pedals included and battery fully charged, which is only 7.4 lbs more than my Specialized Roubaix SL4. At the price of just under $5000 seems reasonable for this spec and not too outrageously more than a non-electric with this spec., at least that's what I tell myself.
WHAT'S IT LIKE TO RIDE. It has a very simple combined switch and indictor on the top tube to control the motor: short push for on, long push for off. Three assist levels are briefly indicated by green, orange and red lighting and you must cycle through to go from mid-level assist (orange) to low level (green). That is not as inconvenient as you might think. Usually, I switch from an assist level to off until the next time I need a boost. As you ride, the colors indicate the state of the battery: white if the level is better than 50% and through to flashing red if you are getting near to empty.
The Di2 is wonderful, changes cleanly and quickly and I am told needs recharging only every three months. It also changes the chain ring used if it finds the cadence too low or too high.
On the road, it is a smooth ride. Green level assist comes in after a couple of seconds delay and with minimum added torque kick, ensuring a smooth transition. Boost to orange level and you feel a definite kick. Stop pedaling in an assist mode and there is a slight braking effect as the motor disengages.
This is a heavier machine than I am used to. Two things require attention. Pedaling under power assist around a corner, such as a 90º turn, may cause you to be heading in the wrong direction. Wait until straight before pedaling. Climbing out of the saddle is inadvisable; the bike is rear heavy and unstable when you are standing in the pedals. But overall, I very quickly got used to the slightly heavier bike and find it comfortable to ride even without assist.
One problem: it has through axles but no quick release and the allen keys required are different – 6mm for the front and 8mm for the back. Very easy to get caught out – I was.
And now for the key question: how far does the battery last? This depends on what level of power is used and for how long and for me that depends on the speed of the pack, the gradient of the hills and my energy level. To date, I have ridden it only with the Cruisers or solo; I use the boost only on some hills and quickly switch off on the flat or downhill. But for testing I rode 50 miles at 14.5 mph and 3500' climbing with level 1 motor assist continuously on: the battery power level dropped below 50% at 40 miles and at second test produced the same result. I also rode 61 miles at 14 mph and 4250' to Rainbow with assist often on: 10-15% remaining at finish. Distances are probably 75 miles at Cruiser speed, at least 40 miles Roadies speed and risky at long riders speed (but worth a try sometime).
Overall: a pleasure to ride providing just the assistance needed not to lose touch with your group. Its fun!