Ascending the Col de Vars
[ Part 2 of Norval's French adventure… ]
After Geneva I had decided to visit Embrun, somewhere I had visited when Charles de Gaulle was the name of the President of France and not of an airport north of Paris. I had found in my archive the 1:50,000 hiking map I had used any years earlier and decided to re-visit the area. The Tour passes Embrun about once every four of five years and part of the route includes the ascent of the Col de Vars, a "categorie 1" climb to 6916'.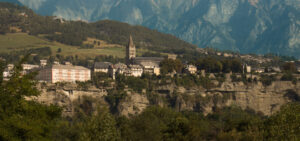 Embrun is a delightful small Alpine town of some 6000 residents. It was formerly an archbishopric with an interesting small cathedral which dates from the twelfth century, now downgraded to a parish church. The city is built on the edge of a vertical cliff with fine views over the surrounding plain and mountains
I am staying in the Hotel de la Mairie, which unlike the adjacent Hotel de Ville really offers accommodation and a decent dinner – ok, old joke. A typical French country inn.
I start off heading south out of town on a road which offers grand views of Europe's largest artificial lake, some climbs up to 10% and very fast and curving descent just before the road turns east at mile 14.
The next 25 miles are a gentle 1.2% average rise along some small mountain roads, passing interesting villages and several churches built on rocky outcrops high above the surrounding countryside. A weekly pilgrimage of effort was clearly required to reach mass in the days prior to cars.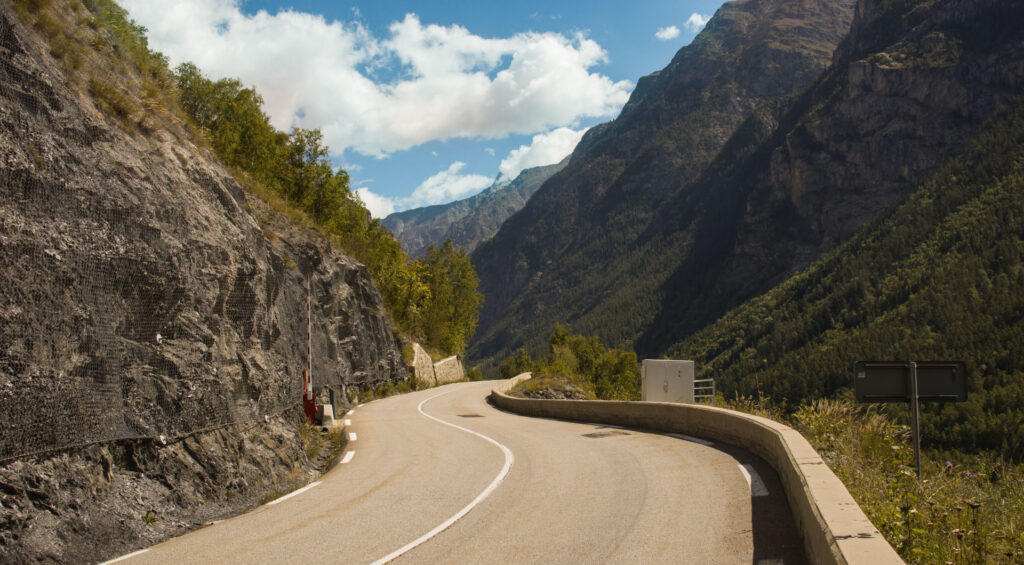 At 40 miles, in Jausiers, continue straight on; the right turn leads to Nice and to Italy. A cyclist statue indicates that soon the real work will start.
The first slopes of the Col de Vars begin in here. It's a 13.5 mile climb to the Col summit which gets steeper along the way. With sections between 2% and 3% and an average grade of 1.4% the first half is easy going before it gets tough(er) from mile 8 onwards. Admire the views; they are fabulous. Passing the village of St Paul sur Urbaye (the Urbaye is the river we have been following for miles) the col begins. The last 6 miles are the official climb with an average slope of 7.5%, getting steeper as you ascend. At 2.5 miles before the top the real effort starts with the last mile at around 10%.
Up the Col trees disappear and the landscape is bare bar the grass which feeds mountain sheep and goats. Above the noise of the wind you may hear the deep clanging sound of large sheep bells and maybe even see a large and unfriendly sheep dog. The road turns through multiple switchbacks, gradually ascending. There are few cyclists but many motorcyclists trying their skills (luck?) on the sharp bends and several sports cars, some of them by unknown Swiss or German small scale manufacturers.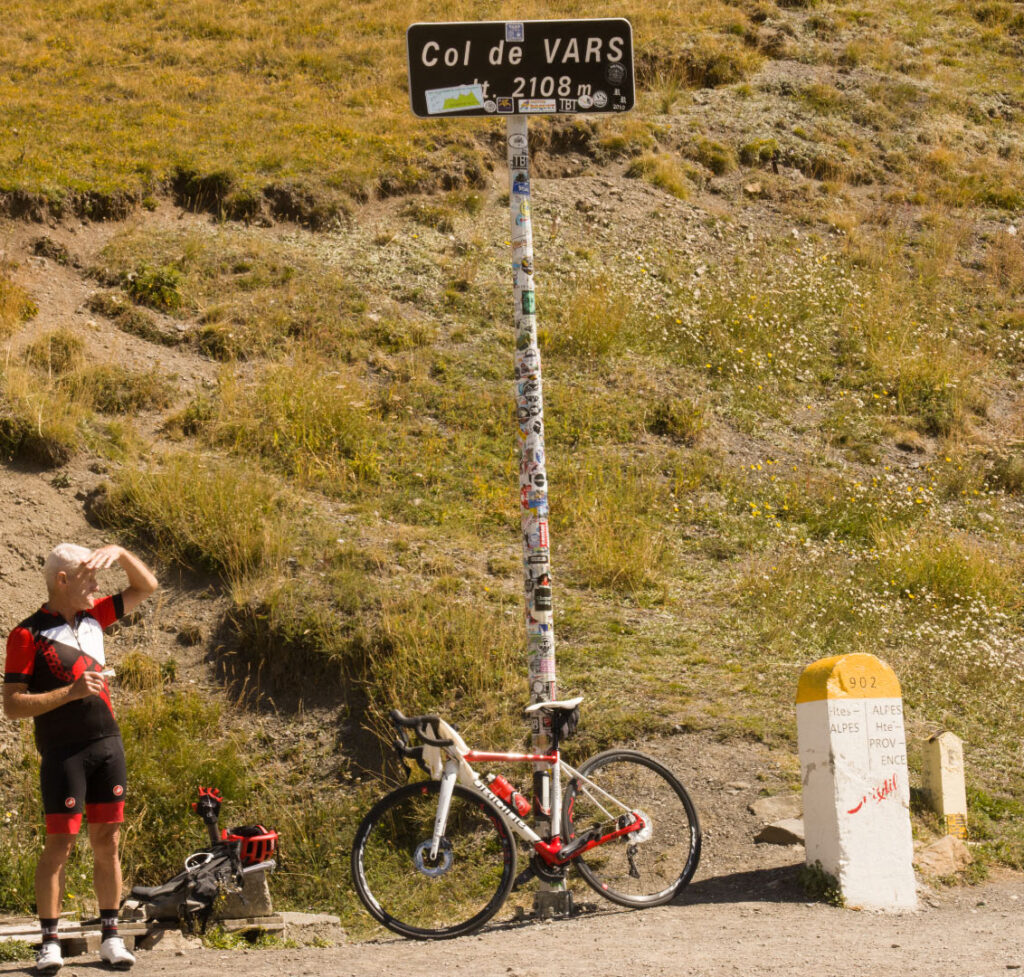 Finally at the top. There are a few cyclists who pose for the compulsory photo. There is a restaurant at the summit but a much nicer one is available less than two miles northwards downhill at a small hotel named Refuge Napoleon. A decent choice of lunch is available in a relaxing atmosphere, inside or out in the sunshine. This hotel has just five rooms and a single starts at just $65 per night, breakfast included or $80 for dinner, bed and breakfast (demi pension). Refuges Napoleon were places of shelter for travelers ordered to be built by Napoleon 1in thanks for the assistance he received on his journey to Paris (and Waterloo) after his escape from Elba. They were built under the rule of Napoleon III in the 1850's. There were six built of which four remain, all close to the Cols of the region.
Heading a little further north we pass the village of Vars, a well-known ski resort rather overbuilt with chalets and hotels for skiers and of little historic or picturesque interest. Continuing, a twelve mile descent averaging 6% offers more great views and hair raising turns into Guillestre, an attractive small town. It is worth going through the center to take in the townscape and perhaps refreshment at one of the many cafes.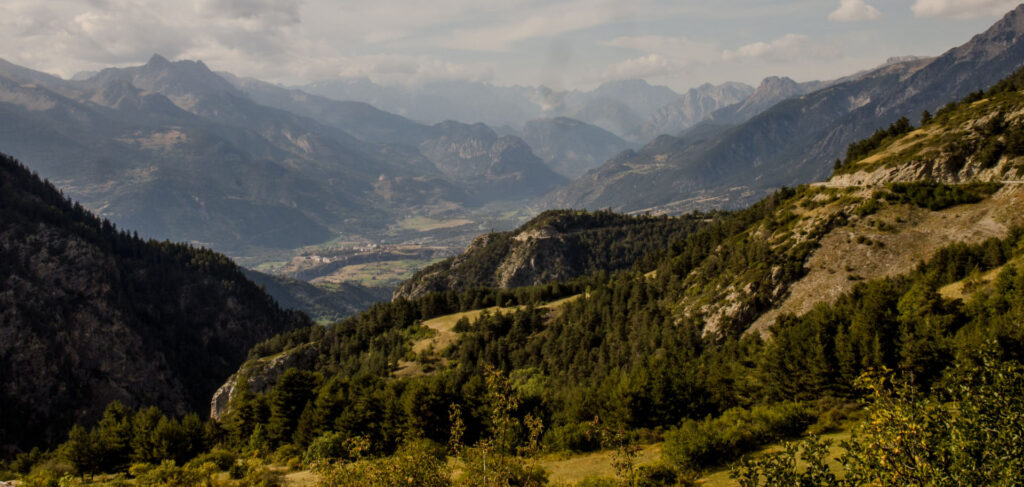 At Guillestre Le Tour usually takes a right turn towards Briancon, the Col d'Izoard (Cat 1) and the Col du Galibier (Cat HC) before arriving after a total of 130 miles from Embrun at Valloire. Our route turns west on an easy descent to Embrun for a total of about 80 miles and 7800' of climbing.
So that's our climb. The interest is perhaps less in the athletic achievement than in the scenery; it is reckoned to be among the best scenic routes in France and if you are French, you would say the best in Europe. Early in September the weather was fantastic, bright sunshine with cooler breezes at the higher altitudes and the roads not too busy
And for full disclosure as they say, I cheated and did this in my small rental car which takes away nothing from the views. Another year with more time, perhaps I'll rent a bike to do it. In my much younger years, it was on foot, carrying everything, food and tents included, in my backpack. Not too much has changed in sixty years, except your correspondent.